Thank you to the Chinet® brand for sponsoring this post.
Click the Image Above to Shop!
To this day, the smell of cinnamon rolls reminds me of Christmas morning. We didn't often have cinnamon rolls when I was growing up, but on Christmas morning, I specifically remember waking up to that sweet, comforting scent. If you've got a house full of guests or a Christmas brunch planned, this Cinnamon Roll Breakfast Bake will feed and please a crowd. My family isn't exactly a fine china kind of crew, but we still like to serve our food on something stylish and functional. That's why we always buy Chinet® Cut Crystal® products when hosting Christmas brunch! The Chinet Cut Crystal collection is the only fully coordinated line of disposable tableware, making serving and cleanup easy so you can spend more time with friends, family, and guests —just toss when done! For the kiddos, we like to make sure we always have Chinet® Classic White™ plates on hand for their clumsy hands. Let's just say, messes are minimal in our house.
There's nothing worse at holiday gatherings than having 3 or 4 unlucky people get put on dishes duty. Being some of the younger family members, my husband and I have been volunteered for this task more times than I could count. The fact is, there's no need to make cleaning up more complicated than it has to be. By purchasing Chinet Cut Crystal products, you get a disposable plate that's convenient, sturdy and durable, and all with an elegant design. This way, you can spend more time laughing, telling embarrassing stories, and spending quality time with friends and family this holiday season. Chinet Cut Crystal products are available in dinner and appetizer/dessert plates, 14-oz. and 9-oz. cups and cutlery. In fact, the Chinet Cut Crystal 
line offers the only premium disposable stemless wine glass widely available. Let's just say, that product gets a lot of use during our holiday parties!
The Chinet® brand can be found at most major grocers and big-box retailers.  Select products now available at Target.
Cinnamon Roll Breakfast Bake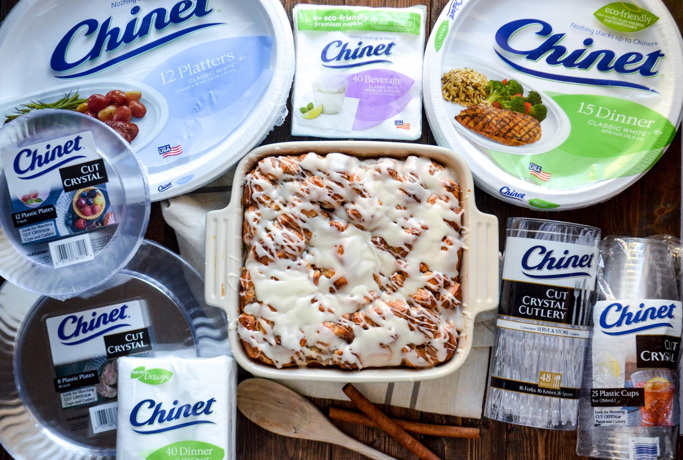 Author:
My Modern Cookery
There's nothing like the smell of cinnamon rolls on Christmas morning! This Cinnamon Roll Breakfast Bake is perfect for making ahead for a crowd!
Ingredients
2 cans Refrigerated cinnamon rolls
4 Eggs
½ cup Heavy whipping cream
2 teaspoons Vanilla extract
2 teaspoons Ground cinnamon
1 tsp bourbon (optional)
Milk, to serve in Chinet Cut Crystal Cup
Instructions
Preheat your oven to 375 degrees F. Open refrigerated cinnamon rolls and set icing aside. Cut each cinnamon roll into six pieces and place in a greased baking dish.
In a separate bowl whisk together eggs, heavy whipping cream, vanilla, and ground cinnamon.
Pour egg mixture over cinnamon rolls and bake for 25 minutes.
Empty the icing that comes with the cinnamon rolls into a small bowl. Add bourbon and whisk to combine.
Allow the bake to cool slightly then drizzle on icing. Serve immediately with a milk of your choice.
I was selected for this opportunity as a member of CLEVER and the content and opinions expressed here are all my own. Chinet® and Cut Crystal™ are registered trademarks of Huhtamaki, Inc. in the U.S. and other countries.