Thank you Beyond Meat for sponsoring this post. Try The Beyond Burger today! The Future of Protein. Made from Plants.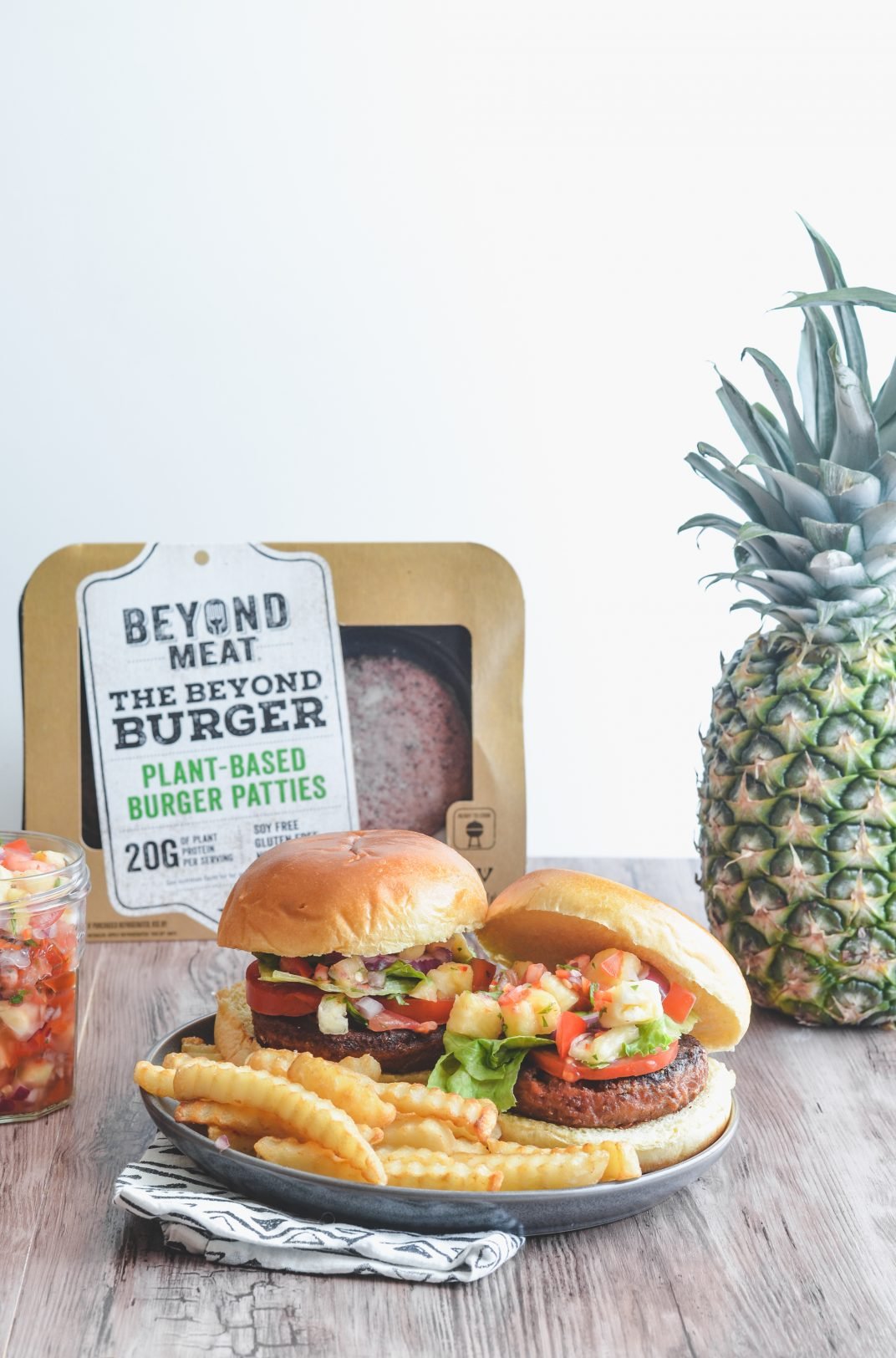 Click on the tag in the above image to download a coupon valid for $1 off The Beyond Burger, at retailers nationwide!
As most of you know, I'm certainly not someone who leads a totally meat-free lifestyle. In fact, I believe that meat plays an important part in my nutrition. I do however agree that substituting meat for plant-based meals is a great idea and necessary to lead a balanced life. I recently tried out The Beyond Burger from Beyond Meat and I cannot recommend it enough! The last time I spoke about them, I paired them with my Italian Potato Salad. This time, I decided to make a delicious Grilled Pineapple Salsa to go with their delicious smoky flavor.
The thing I love about The Beyond Burger is how it appeals to both meat eaters and vegetarians. I can't stress to you enough how amazing the flavor of this burger is. They're perfectly smoky with a texture that's so meaty it'll boggle the mind. While you're chowing down on your delicious burger, you can rest assured knowing that your meal is positively impacting your health and the planet at the same time. You shouldn't have to worry about sacrificing taste for health, and the Beyond Burger will help you achieve that balance. You may be wondering if you can grill The Beyond Burger, and the answer is, OH YEAH! I found that it held its shape well and came away with amazing grill marks, as you can see from the photos. Seriously, if you didn't know differently, you wouldn't think this was a meat-free burger.
These nutrition-packed burgers have 20 grams of plant protein per patty and no soy, gluten, or GMOs. Beyond Meat is available at over 7,000 grocers nationwide, so keep an eye out for them in your local meat case (yes, THAT'S how meat-like they are!). I'm actually having them for dinner again tonight and I can't wait to pair the burgers with different toppings and buns!
Grilled Pineapple Salsa
Author:
Prep time:
Total time:
Ingredients
1 fresh pineapple, peeled, cored, and sliced into 1″ slices
Extra-virgin olive oil, for brushing
1 jalapeño or Fresno chile, minced
1/2 red onion, chopped
Juice of 1 lime
kosher salt
2 tbsp. freshly chopped cilantro
Instructions
Preheat grill or grill pan over medium-high heat.
Brush pineapple with olive oil and grill until charred on both sides. Set aside to cool, then chop into bite-sized pieces.
In a medium bowl, mix pineapple, jalapeño, onion and lime juice. Season with salt and garnish with cilantro.
Serve on top of burger or with chips.
I was selected for this opportunity as a member of CLEVER and the content and opinions expressed here are all my own.