Thank you Beyond Meat for sponsoring this post. Try The Beyond Burger today! The Future of Protein. Made from Plants.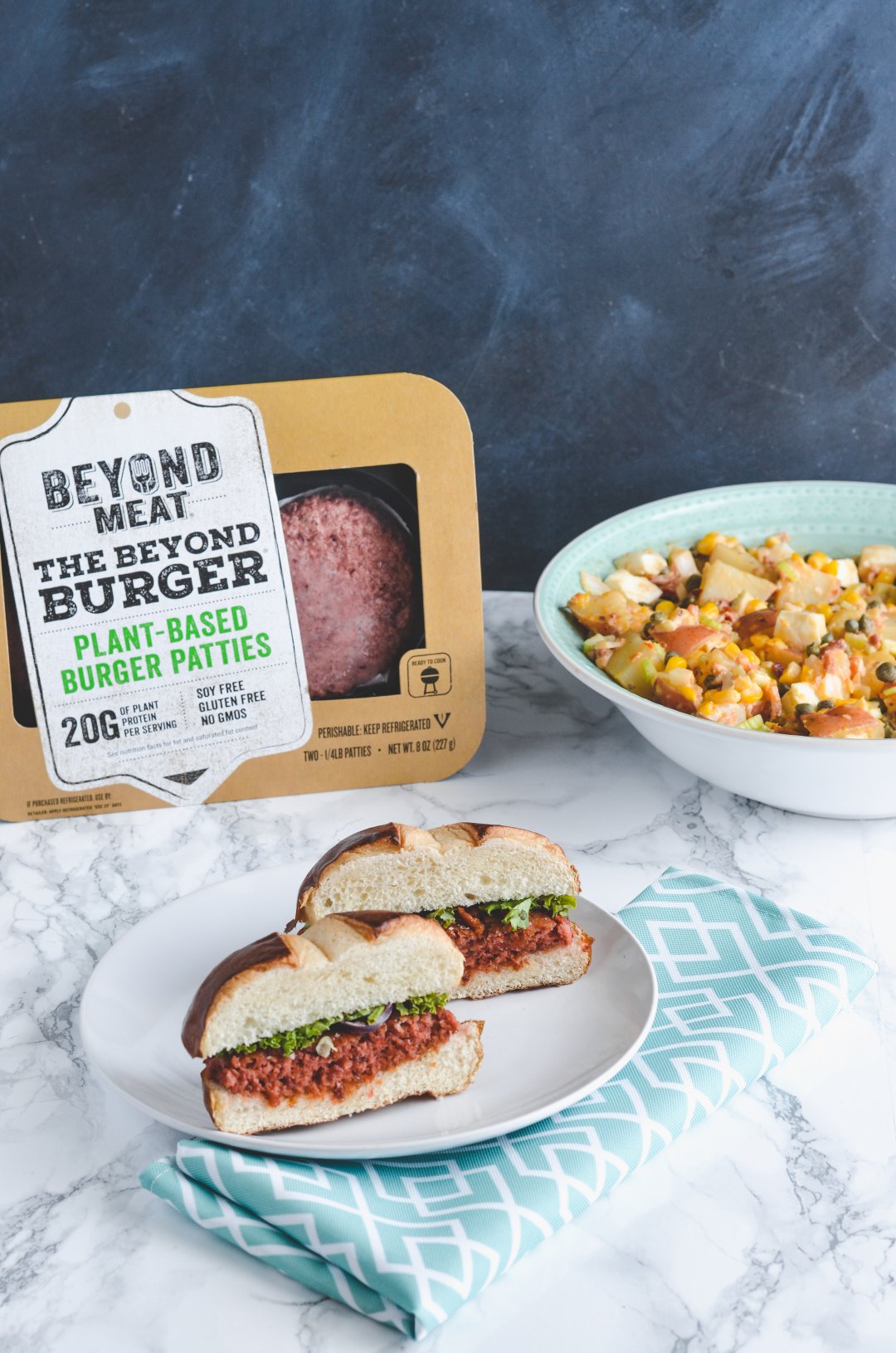 Click on the tag in the above image to download a coupon valid for $1 off The Beyond Burger, at retailers nationwide!
I make no claims to lead a totally meat-free diet. In fact, I'm someone who thinks that meat plays an important part in my overall wellness. I do however think that substituting meat for plant-based meals is a great idea and necessary to lead a balanced life. I recently tried out The Beyond Burger from Beyond Meat and I cannot recommend it enough! I whipped up a side of Italian Potato Salad to serve alongside and it was perfect for a hot summer night.
The thing I love about The Beyond Burger is how it can appeal to both meat eaters and vegetarians. I can't stress to you enough how amazing the flavor of this burger is. They're perfectly smokey with a texture that's so meaty it'll boggle the mind. While you're chowing down on your delicious burger, you can rest assured knowing that your meal is positively impacting your health and the planet at the same time. You shouldn't have to worry about sacrificing taste for health, and the Beyond Burger will help you achieve that balance.
These nutrition-packed burgers have 20 grams of plant protein per patty and no soy, gluten, or GMOs. Beyond Meat is available at over 7,000 grocers nationwide, so keep an eye out for them in your local meat case (yes, THAT'S how meat-like they are!). I'm actually having them for dinner again tonight and I can't wait to pair the burgers with different toppings and buns!
Italian Potato Salad and Plant-Based Burger
Author:
My Modern Cookery
Ingredients
6 medium red potatoes, quartered
3 tablespoons red wine vinegar
2 large celery stalks, diced
6 green onions, diced
½ cup frozen corn, defrosted
5 hard-boiled eggs, peeled
1½ cups mayonnaise
1 tablespoon dijon mustard
2 tbsp sun-dried tomato pesto
¼ cup capers, drained
1½ teaspoons celery seed
kosher salt and freshly ground black pepper
paprika for garnish
Instructions
Bring potatoes to a boil in large pot of cold water that's been liberally salted. Reduce the heat to medium-high and cook for 10-15 minutes or until the potatoes are easily pierced with a paring knife. Drain and let cool slightly. Transfer the warm potatoes to a large mixing bowl and sprinkle with the white vinegar and stir. Allow the potatoes to cool, about 15 minutes. Add the celery, green onions, and defrosted corn. Chop the hard-boiled eggs and add to the potato mixture.
In a medium bowl, mix the mayonnaise, pesto, mustard, capers, celery seed and salt and pepper. Mix well into the potato mixture and season with more salt and pepper if needed. Sprinkle with paprika if desired. Chill for at least 1 hour or overnight before serving.
I was selected for this opportunity as a member of CLEVER and the content and opinions expressed here are all my own.