Thank you Wild Selections® for sponsoring this post. For a more sustainable meal, be sure to check out Wild Selections® premium seafood — it's always healthy, always Marine Stewardship Council certified, and always delicious!
When you need a quick and healthy lunch that's both sustainable and delicious, look no further than this Tuna Sesame Power Bowl!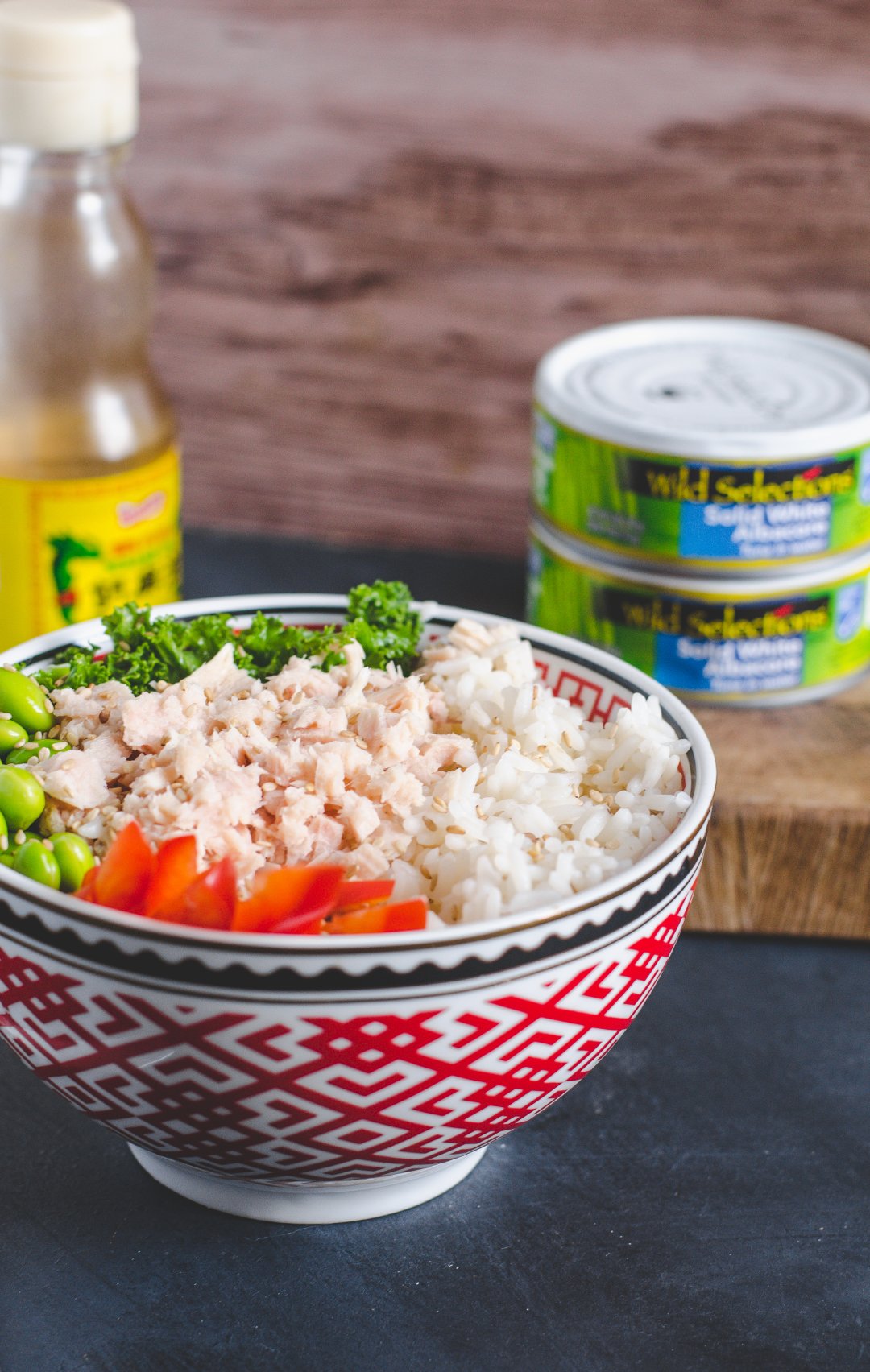 Click the tags in the photo above to shop Wild Selections White Albacore Tuna!
It's no secret that I am a huge seafood lover — One of the hardest parts of this pregnancy has been avoiding my beloved sushi. I adore sharing recipes that get more nutrients into your body, and today I'm doing that with this Tuna Sesame Power Bowl, thanks to Wild Selections. For this recipe, I used their Solid White Albacore Tuna in water, but they also have their Solid White Albacore Tuna in olive oil that's just as delicious. Both of these products are made using simple ingredients, are GMO project certified, and are traceable to the ocean where it was caught, so you can trust in every bite. We're actually heading to Martha's Vineyard this weekend and I am beyond ready to eat all of the wonderful fresh seafood.
When it comes to seafood, I've always been adamant that I use only fish that's sustainable and wild-caught. While this used to be something that was harder to find, now you can purchase quality tuna, like Wild Selections right in your regular grocery store. If you didn't know, Wild Selections has wonderful partnerships with both the Marine Stewardship Council (MSC) and World Wildlife Fund (WWF). What do they do with these organizations? For starters, Wild Selections sources its wild-caught seafood only from ocean areas that have been certified sustainable to the Marine Stewardship Council Standard. MSC has been the world's leading certification program for wild-caught, sustainable seafood for the past 20 years. This assessment and certification of oceans areas by MSC ensure that fish stocks are healthy, well managed and plentiful. In addition to that, Wild Selections also donates 13 cents from the sale of each can to support World Wildlife Fund's efforts to protect marine life and expand sustainable fishing practices, up to $1 million by the end of this year. This is such important work that they're doing to keep our oceans and its wildlife in the best shape it can be. If you want to learn more about Wild Selections and what they're doing for the planet, please visit their website for a wealth of information.
Now, this Tuna Sesame Power Bowl is about to be your new favorite lunch. It's filling, energizing, and you can customize according to whatever you have around. I often switch up the toppings for sliced avocado, cucumber, kimchi, or carrots. Try it out and let me know which combo is your favorite!
Tuna Sesame Power Bowl
Author:
Prep time:
Total time:
Ingredients
8 ounces Wild Selections Solid White Albacore Tuna
1 tbsp mayonnaise
1 tsp soy sauce
[b]For the Sesame Dressing[/b]
1 tbsp sesame oil
1 tbsp soy sauce
1 tsp honey
pinch crushed red pepper flakes
1 cup cooked brown rice
2 cups leafy greens, I used kale
1/4 cup edamame
1/4 cup sliced red bell pepper
1 teaspoon toasted sesame seeds, for garnish
gochujang or Sriracha, if desired
Instructions
Combine tuna, mayo, and soy sauce together in a small bowl and stir together. Set aside.
[b]For the Sesame Dressing[/b]
Whisk sesame oil, soy sauce, honey, and crushed red pepper together in a small bowl. Set aside
[b]To Assemble[/b]
Arrange remaining ingredients together in a bowl, top with tuna and drizzle with sesame dressing. Sprinkle sesame seeds and top with either gochujang or Sriracha, if desired
I was selected for this opportunity as a member of CLEVER and the content and opinions expressed here are all my own.