Football season means… chili season! Add some nutrients to your tailgate with this Vegetarian Butternut Squash and Three Bean Chili.
This post is sponsored by Bush's and Savings.com. All opinions expressed are 100% my own. #GameTimeWithBushs
I'll be the first to tell you that I'm not a huge football fan. Like, I hate it. It takes too long, they stop every 10 seconds, it's dangerous and confusing. But, what I do LOVE is tailgating. As long as no one actually makes me watch the game and I can play cornhole and take Jell-O shots in peace, I'm in heaven. Tailgating and football parties come with by far the best food. Nachos, hot dogs, burgers, and of course, chili. Now that the weather is cooling down to fall-like levels, I can finally make chili, and I'm starting with this Vegetarian Butternut Squash and Three Bean Chili.
Whether you're a devoted college football fan or a crazed NFL enthusiast, chili is the way to go when you're having friends over to watch the game. You know what you can't have chili without? BEANS. Since I decided to go vegetarian with this recipe, I made sure to add not one, not two, but three types of beans for extra protein. Of course, I had to use my trusty Bush's Beans because they have every bean you could want. I went with their Chili Beans, Black Beans, and Pinto Beans, but you can't go wrong with any of them! Bush's Beans are a great addition to any game time snack, like Bush's Black Bean Salsa with Pineapple. YUM!
This Saturday, we're tailgating for the UofL and Clemson game and I'm definitely going to be bringing this chili along for everyone to enjoy. You should do the same! If you do decide to whip it up, I have a great coupon for you below, along with a link where you can register for a chance to win a Wal-Mart gift card! That would buy you plenty of football party essentials.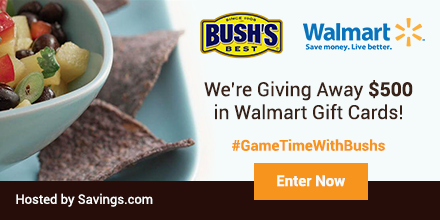 The contest lasts from Tuesday, September 12th at 12:00 AM ET to Monday, September 18th at 11:59 PM ET.
Ten (10) winners will receive a $50 Walmart gift card.
Enter the giveaway HERE by submitting your email address on the form at the top of the page.
The winners will be chosen through a lottery drawing and notified on Tuesday (9/19) via the email address you used to enter.
See complete Official Rules for entry instructions, full prize descriptions, restrictions and other important details.
Coupon is redeemable at Wal-Mart stores. Be sure to check your Valpak envelopes to get an additional Bush's coupon!
Vegetarian Butternut Squash and Three Bean Chili
Author:
Prep time:
Cook time:
Total time:
Ingredients
2 tablespoons olive oil
1 medium white onion, chopped
1 ½ pounds butternut squash, peeled and chopped into ½-inch cubes
4 garlic cloves, minced
1 tablespoon chili powder
1 teaspoon ground cumin
¼ teaspoon ground cinnamon
1 bay leaf
1 15-ounce can Bush's Black Beans, drained and rinsed
1 15-ounce can Bush's Chili Beans
1 15-ounce can Bush's Pinto Beans, drained and rinsed
1 14-ounce can diced tomatoes,
1 32-ounce container of vegetable broth
3/4 cup quinoa or millet
Salt and pepper, to taste
Chopped fresh cilantro and sour cream, if desired
Instructions
Heat olive oil In a 4- to 6-quart Dutch oven or stockpot over medium heat. Add the onion and butternut squash and cook, stirring occasionally, until the onions are turning translucent.
Turn the heat down to medium-low and add the garlic, chili powder, cumin, and cinnamon. Cook, stirring constantly, until fragrant, about 30 seconds.
Add the bay leaf, beans, tomatoes, broth, and millet or quinoa. Stir to combine and cover for about 1 hour, stirring occasionally. Taste about halfway through cooking and add salt and pepper to taste.
Serve with fresh chopped cilantro and a dollop of sour cream.